Berlin
The conference site is located at the DESY institute at Zeuthen, a small town in the suburbs of Berlin.
There is a direct connection to Berlin via S-Bahn. Trains are runnung every 10 or 20 minutes to Berlin,
depending on the time of the day. The distance to the center of Berlin is roughly 30 km and it takes about
an hour to get there by train. The trains run up to 1 a.m.
Berlin is the capital of Germany. It has a rich cultural and political history. Click on the picture!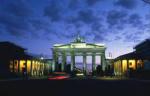 More links:
Tourist Information
Lonely Planet Travel Guide
Culture (in German)
More Culture
Activities
Movies




S-Bahn Tickets

You can buy tickets for the S-Bahn at ticket machines at the stations and on the platforms.
The ticket machines accept coins, small bills, and ec-cards
You need a ticket for the zones A-B-C to get to Berlin.
There are single tickets (2,40 euros), day tickets (6,30 euros) and a 3-day wellcome cards including reduced prices for some touristic attractions (19,00 euros).
You need to validate the tickets with a stamp from one of the little red stamping machines before you get on the train.
More Info

---
| | |
| --- | --- |
| | |
Webmaster, update 15.04.03